by DrLefty
A house of mirrors is a carnival or amusement park attraction. Wikipedia describes it as follows.
The basic concept behind a house of mirrors is to be a maze-like puzzle.[1] In addition to the maze, participants are also given mirrors as obstacles, and glass panes to parts of the maze they cannot yet get to. Sometimes the mirrors may be distorted because of different curves, convex, or concave in the glass to give the participants unusual and confusing reflections of themselves, some humorous and others frightening.
Great American Ballpark in Cincinnati has in recent years been a House of Horrors for the Giants. Before last night, they hadn't won a game there since 2016, going 0-7 in the interim. Last season, before the Giants posted a feculent 5-21 record in September, they were actually kinda sorta still in the race as late as mid-August. Just like earlier this week, they'd won a series against the Dodgers, with their two wins coming in dramatic fashion. Then they went to Cincinnati for a weekend series, got their butts kicked, and basically that was the beginning of the end of the 2018 season for the Giants.
You know who didn't forget that? Buster Posey. This is what he said after getting the walk-off hit on Wednesday to take a series from the first-place Dodgers.
"We need to fly there tomorrow and mentally be geared and ready to go, and not be lackadaisical coming off the off day," he said.
There was a fair amount of energy and buzz coming into the game. The Reds brought up their top prospect, center fielder Nick Senzel, to make his major league debut. The Giants shook up their roster. Having already added catcher Stephen Vogt from AAA Sacramento, they put backup catcher Erik Kratz on the injured list, designated outfielder Gerardo Parra for assignment, and called up AAA outfielder Mike Gerber. Oh, and the biggest thing: former first-rounder Tyler Beede was called up from AAA to make his 2019 debut against fellow Vanderbilt alum Sonny Gray.
So here's how things looked going into the game. Let's let Grant Brisbee of The Athletic tell the story.
Think of Beede's potential as a bowl of pasta at a four-star Italian restaurant. Boy, it sure smells good, and you can't wait to dig in.
It started off well with Beede striking out a scuffling Joey Votto. Then with two outs and nobody on, it went bloop-single-three-run homer (by Derek Dietrich, whom many hoped the Giants would sign this winter). Two innings later, Dietrich hit another three-run homer, Brandon Crawford made an ugly error, Beede walked the opposing pitcher, and 2.1 innings into that bowl of pasta, we had…this.
Think of Beede's actual start as that bowl of pasta, except now it's getting slathered with chili. Gnarly, viscous chili. It smells like there's nutmeg in it for some reason? Gross.
Yeah. Good ol' 2019 Giants. Give us a little whiff of happiness and hope with the Dodger series and then back to the House of Horrors in Cincinnati where they seem to freaking forget how to play baseball. Besides Beede's "gnarly, viscous" Skyline Chili start, there was Crawford's error, which led to an unearned run. There were two errors in the same inning, by Kevin Pillar in center field and then by reliever Nick Vincent, that led to another unearned run. There were leadoff walks and stranded runners. You know. Typical 2019 Giants stuff.
But you know what? Things are not always as they seem in this House of Mirrors/Horrors. The Giants also have other history at the Great American Ballpark in Cincinnati. Remember 2012, the first round of the playoffs? Buster Posey does. So does Ryan Hanigan, the Reds' catcher when Posey hit the grand slam that won the series for the Giants.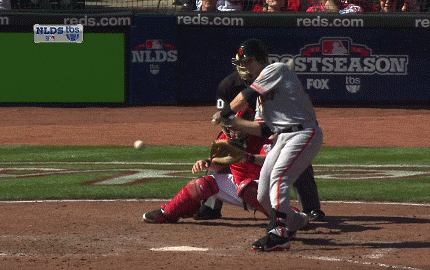 So do the Reds' announcers. Check out their commentary after Evan Longoria hit the eleventh-inning home run to win the game for the Giants.
https://twitter.com/firstinningrunz/status/1124552374343757825
[EDITOR'S NOTE: The video highlights are not working at the moment, not on NBCS and not on MLB.com. I'll come back and add Vogt's homer as soon as I can find a working video clip. It's worth paying attention to catcher Tucker Barnhart's reaction to Vogt's homer. It was Hanigan-esque.]
Coming into last night's game, the Reds and the Giants had identical records and basically were identical good-pitch, no-hit teams. No one would have predicted a wild, messy, 12-11 slugfest. Certainly no one would have predicted that the Giants, down 8-0 by the third inning and 10-3 when Gray left after five innings (knowing he'd finally get his first win of 2019), would end up with their biggest comeback win in 30 years. The 2019 Giants. The Fightin' Mendozas™.
As for that yukky bowl of pasta, Tyler Beede's start? Somehow Beede did not end up being the losing pitcher.
That's what happens in a house of mirrors–"unusual and confusing reflections…some humorous and some frightening."
Other "House of Mirrors" Events This Week
The calendar turned to May, and we finally got to see that Farhan Zaidi is in charge of the team now. Veterans DFA'd (Parra) or informed that they're "injured" (Holland and Kratz). Minor leaguers recalled (Gerber, Beede) and then optioned again (Blach).
As the Giants were getting stomped by the Dodgers on the last day of April and Mac Williamson was simultaneously setting Albuquerque on fire, fans were asking the beat writers on Twitter why someone wasn't getting called up to spark the sad sack, depressing team. We were 'splained that front offices don't DFA veterans just to make room for minor leaguers having a hot streak.  Then a couple of days later, Zaidi did exactly that.
So we didn't get Mac, but we did get Gerber, who had a good spring and has been consistently raking for AAA Sacramento. Gerber also bats lefty, and the Giants are facing a bunch of righty starters on this trip, and he can play all three outfield positions, making it easier to part with Parra. The most important point, though, is that Gerber still has minor league options. If things don't work out, he can go back to Sacramento. Once Mac comes up, if he does, he either has to stay or be exposed to waivers again, and if he clears waivers, he can declare free agency. So it literally will be use-him-or-lose-him for the Giants and Mac. That said, Zaidi made comments this week suggesting that Mac is still in the picture, despite the beat writers' assertions that he's "not a Zaidi guy."
The most important "tell" of the new era this week is the DFA of Parra. Not only was Parra signed to actual money, but he actually was tied for the team lead in bWAR (all because of his defense). He had four outfield assists and six defensive runs saved. Oh, and he's Pablo Sandoval's childhood friend and one of the happy trio of Venezuelans who have been a clubhouse bright spot this season. Nonetheless, he's gone. I think it's safe to say that this would not have happened in the Sabean/Evans regime.
The 2019 Willie Mac Award Winner is…
Where does Vogt fit into all of this roster shuffling? Well, at 34, he's not "youth" (although he's still four years younger than Kratz), but he does bring versatility, in that he can play positions other than catcher.
Vogt three times won the Catfish Hunter Award while a member of the A's, which is their equivalent of the Willie Mac Award. And what could be more inspirational than a lifelong Giants fan not only hitting the dramatic homer to save a game (and getting two other hits and two RBIs) but having that be his first game back after a horrible career-threatening shoulder injury and a grueling rehab?  It was clear that Vogt completely appreciated the moment and felt all the emotions of it.
It's also worth mentioning that Thursday was also the one-year anniversary of Will Smith's return to the mound after Tommy John surgery–on his way to the 2018 Willie Mac Award, the last winner who will ever have the award handed to him by Stretch himself. Smith didn't miss marking the moment, either.
One year ago today I was given the chance to do what I love again and I will never forget what it took to get that chance back. I will forever be grateful to my family, my teammates and… https://t.co/ykM8iKeKmJ

— Will Smith (@White_Willy13) May 2, 2019
It was fitting that Smith saved the game after Vogt's heroics and Longoria's go-ahead homer. Smith looked nasty as all get-out, Will-The-Beast, indeed.
If Vogt has early competition for the Willie Mac Award, it might be the other Steven/Stephen–young Duggar. Duggar's had a great couple of games, with three hits in each, and of course, his speed made the winning run possible on Wednesday night. Yes, there are growing pains, but Duggar is a valuable player and brings that grit and determination that channels another homegrown Willie Mac winner, Matt Duffy in 2015.
Tonight's Game
Giants at Reds, 4:10 p.m., House of Horrors/Mirrors
Dereck Rodriguez (3-3, 4.35 ERA) vs. Tanner Roark (1-1, 4.08 ERA)
D-Rod tries to bounce back after his rough outing at home against the Yankees. Tanner Roark looks forward to facing Brandon Belt again.
Final Thoughts
We thought we knew who the 2019 Giants were. This crazy game last night and this past week has shown us that things may not always be as they appear. Evan Longoria an over-the-hill bust? He has two game-winning hits in the last four games. Madison Bumgarner not the same guy? He pitched his best game, as to velocity and swing-throughs, since 2016. Buster Posey finished as a productive hitter? He has a .919 OPS in his last nine games. The recent roster moves also show us that things may change suddenly and unexpectedly.
"Sometimes the mirrors may be distorted." That means we have to keep looking and not be so sure we always know what's real. Lefty out.